© Ribbelmonster - All rights reserved! These pages are protected by the law of copyright, also if they are free. Print or save copies for personal use only. Do not copy, modify, distribute, publish, transmit or reproduce this content (text, images, design) or any part of it!
Crochet Hooks made completely of steel
Metall Häkelnadeln sind die wohl älteste und bekanntesten Ausführungen der Häkelnadel. Durch das Metall ergibt sich eine glatte Oberfäche und der Faden gleitet sehr leicht über die Häkelnadel.
Tip: Grundlegende Hinweise zur Auswahl der richtigen Häkelnadel und einen Überblick über die verschiedenen Ausführungen von Häkelnadeln, findest du im Ratgeber Welche Häkelnadel für Anfänger?.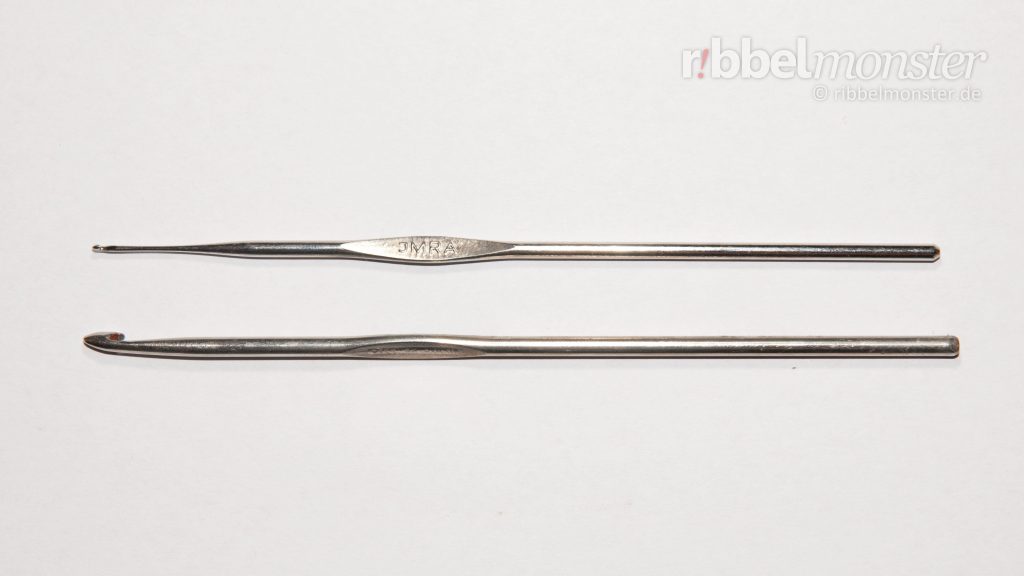 Die einfachen und älteren Ausführungen der Metallcrochetadeln sind meist silbergrey, modernere Varianten erscheinen in unterschiedlichen Metallic-Paintn und sind noch netter anzusehen.


Die Form des Hakens der Metallcrochetadel kann wie bei allen anderen Häkelnadeln stark variieren. Zu spitze Haken spalten sehr häufig locker gesponnenes Yarn und erweisen sich als nicht besonders nützlich. Eine zu kurze Kerbe am Haken kann das leichte Abrutschen des Fadens begünstigen, eine zu tiefe Kerbe dagegen den Faden festklemmen.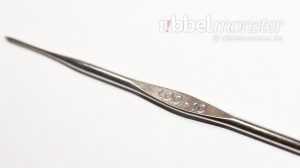 Vollmetall Häkelnadeln verfügen über einen recht langen Schaft, der häufig mit einer festen Gravur der Needle Size auf einem abgeflachten Stück endet, welche sich nie bis zur Unkenntlichkeit abnutzt. Dies ist gerade bei den kleinen, schwer unterscheidbaren Needle Sizen recht nützlich.
Leider ist der Griff sehr dünn und führt häufig zu einer verkrampften Handhaltung. Außerdem ist das Metall nicht sonderlich griffig und schön anzufassen, wodurch kein sicherer Halt gewährleistet ist.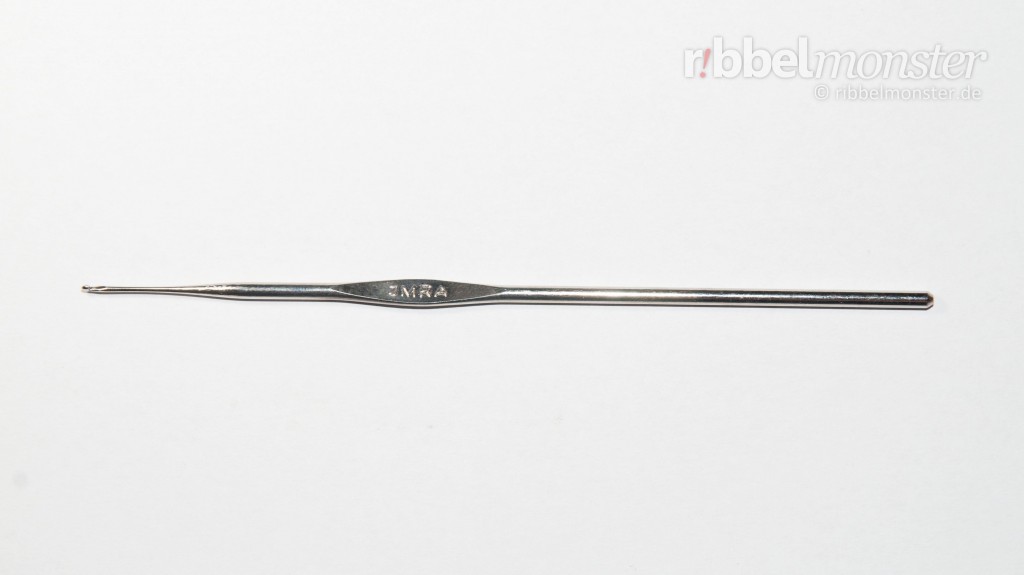 Dünnere Needle Size lassen sich mitunter sehr leicht verbiegen, können aber einfach in einen Schraubstock eingespannt und gerichtet werden, ohne das die Häkelnadel Schaden nimmt. Daher ist bei kleinen Needle Sizen von 0, bis 2,0 mm eine Metallcrochetadel anderen sogar zu bevorzugen.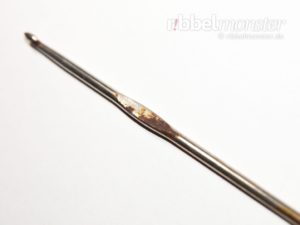 Metallcrochetadeln minderer Qualität neigen zum rosten und sind dann recht schnell rau und unbrauchbar. Dazu muss man die Häkelnadel nicht einmal baden oder anders extremer Feuchtigkeit aussetzen. Die normale Luftfeuchtigkeit reicht über die Jahre schon aus. Kurzzeitige Abhilfe schafft die Reinigung mit entsprechenden Spezialmitteln, kann aber den immer tiefer greifenden Rost nicht mehr aufhalten. Wer zur Billignadel greift, wird sich über kurz oder lang ärgern.