© Ribbelmonster - All rights reserved! These pages are protected by the law of copyright, also if they are free. Print or save copies for personal use only. Do not copy, modify, distribute, publish, transmit or reproduce this content (text, images, design) or any part of it!
Crochet Flowers – Crochet Daffodils
Osterglocken crochet wird mit dieser Anleitung zum Kinderspiel. Die kleinen Osterglocken Applikationen sind schnell gehäkelt und ein echter Hingucker als Tischdeko oder zum Verzieren von Kleidungsstücken, Decken, Kissen oder anderem geeignet.
MTYxNDY3MzU3NCAtIDMuMjM5LjMzLjEzOSAtIDA=
Vorkenntnisse
MTYxNDY3MzU3NCAtIDMuMjM5LjMzLjEzOSAtIDA=
Material
Crochet Yarn:
Crochet Hook: 3,0 mm
MTYxNDY3MzU3NCAtIDMuMjM5LjMzLjEzOSAtIDA=
Pattern: Osterglocken crochet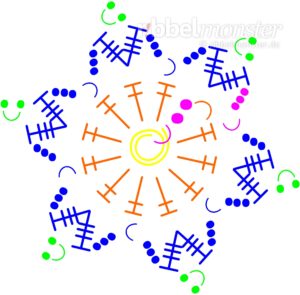 Zuerst habe ich dir wieder eine kleine Häkelschrift für das Häkeln von Osterglocken erstellt.
Zur besseren Orientierung sind einzelne Runden und Bestandteile wie gewohnt farbig gestaltet. Gleich folgt aber auch noch eine wörtliche Erklärung dazu.
MTYxNDY3MzU3NCAtIDMuMjM5LjMzLjEzOSAtIDA=
Osterglocken crochet
1st round: schlage einen magic ring an und häkle in diesen 2 Lftm und 11 Stb, dann mit 1 Km schließen = 12 M
2nd round: beginne mit einer Km in die Vorrunde, für ein Blütenblatt (blue und green in der Häkelschrift) häkelst du:

über die Km: 3 Lftm
in die nächste Vormasche:

1 (werden wie ganze oder double double crochet stitches (US!) gehäkelt, beginside nur mit 3 Schlingen am Anfang, die paarweise abgemascht werden)
ein Pikot (green in der Häkelschrift) = 2 Lftm + 1 Km in die erste Lftm
1 (in die selbe Vormasche, wie das vorherige Dreifachstäbchen)

3 Lftm
in die nächste Vormasche: 1 Km
weiter mit dem nächsten Blütenblatt

Zierreihe: von oben Km um den inneren Stäbchenkreis crochet
Fäden verstechen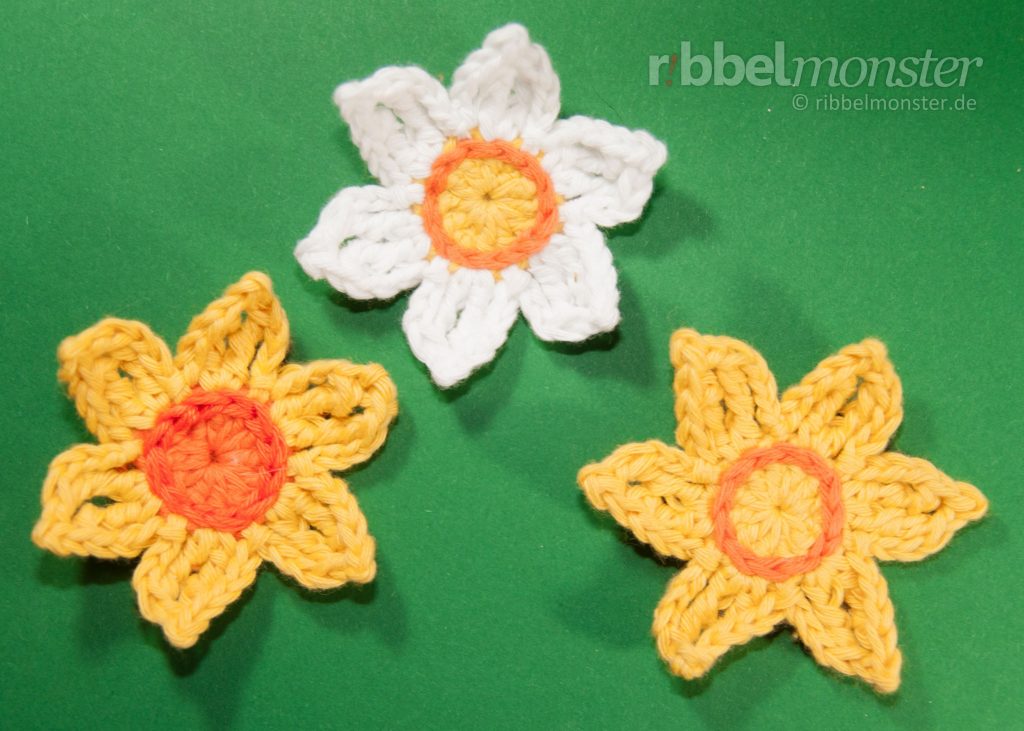 Je nach Geschmack und verfügbaren Paintn kannst du den inneren Kreis yellow oder orange crochet. Dazu passen whitee oder yellowe Blütenblätter und eine Zierreihe in orange. Besonders hübsch sieht es aus, wenn du verschiedene yellow und orange Töne hast und mehrere Blüten mit unterschiedlichen Kombinationen häkelst.