In this free pattern I will show you how to crochet a amigurumi pretzel. The crochet pretzel fits perfect into the toy shop or the doll kitchen or can be used as a decoration for Muinch Beer Festival.
Knowledge: Amigurumi – Crochet Tiny Pretzel
Supplies: Amigurumi – Crochet Tiny Pretzel
Crochet Yarn:
Häkelnadel:
Wooden stick (chopstick, skewer)
Filling:
Dekorationen:
Size: Amigurumi – Crochet Tiny Pretzel
Here you find the size specifications for the crochet pretzel.
| | | |
| --- | --- | --- |
| Needle Size | Yarn | Width |
| 2,5 mm (shown example) | 125m / 50g, 100% Cotton | 8,5cm |
Pattern: Amigurumi – Crochet Tiny Pretzel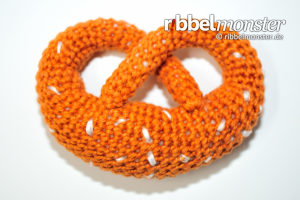 For the amigurumi pretzel we crochet just a bulky line and fill it. Later it will be twisted and sewn together and if you like you can embroider some decorations.
Crochet Amigurumi Pretzel
The amigurumi pretzel we crochet from one side to the other in spiral rounds with single crochet stitches (US!). It´s important to fill and stuff the body evenly because it will get very long. You can use a wooden stick (chopstick, skewer) to reach the far corners.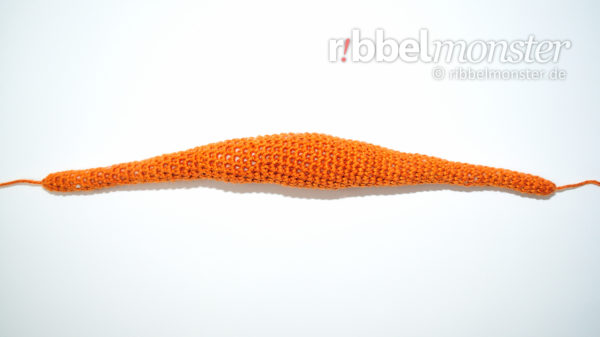 Finish Amigurumi Pretzel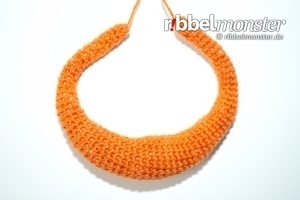 At least we can bend the pretzel easily in shape.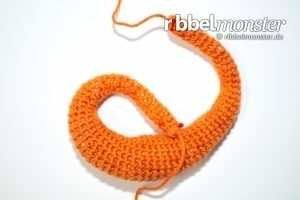 There for the pretzel gets twisted so both ends are crossed and point to the opposite inner side.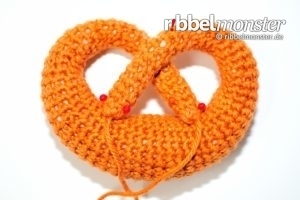 First you can attach the ends with pins.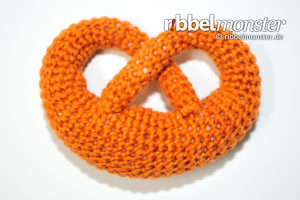 Then you can sew on the ends with the thread ands and secure and weave in them inside.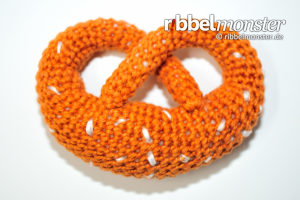 At least you can use white darning yarn to embroider irregular some different sized pieces of salt.
Finished is your crochet pretzel! May be you will leave us a picture of your work!?