© Ribbelmonster - All rights reserved! These pages are protected by the law of copyright, also if they are free. Print or save copies for personal use only. Do not copy, modify, distribute, publish, transmit or reproduce this content (text, images, design) or any part of it!
Amigurumi – Crochet Skull
Einen Amigurumi Totenkopf crochet wird mit dieser kostenlosen Häkelanleitung zum Kinderspiel. So häkelst du ganz schnell einen gruseligen Amigurumi Totenkopf für Halloween, als Dekoration oder Schlüsselanhänger. Du kannst den Amigurumi Totenkopf mit vielen unterschiedlichen Gesichtern gestalten und auch mit Schleifen, headtüchern oder earsklappen verzieren.
MTYxMTc4NDEyNCAtIDE4LjIwNy4xMDguMTgyIC0gMA==
Knowledge: Amigurumi – Totenkopf crochet
MTYxMTc4NDEyNCAtIDE4LjIwNy4xMDguMTgyIC0gMA==
Supplies: Amigurumi – Totenkopf crochet
Crochet Yarn:
Crochet Hook:
Filling: Füllwatte oder Baumwollwatte
für das Gesicht:

Example: blacken Felt Fabric, blackes Nähgarn, dünne Nähnadel, Darning Yarn (black) oder Embroidery thread
MTYxMTc4NDEyNCAtIDE4LjIwNy4xMDguMTgyIC0gMA==
Crochet Pattern: Amigurumi – Totenkopf crochet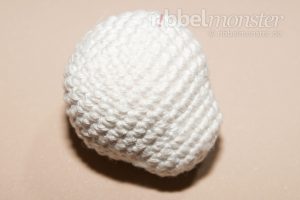 Den Amigurumi Totenkopf crochet wir von oben nach unten in spiral rounds und ausschließlich mit single crochet stitches (US!). Deshalb musst du auch keine turning-chain stitches oder slip stitches crochet, sondern legst immer einen Markierfaden ein.
MTYxMTc4NDEyNCAtIDE4LjIwNy4xMDguMTgyIC0gMA==
Totenkopf fertig stellen und gestalten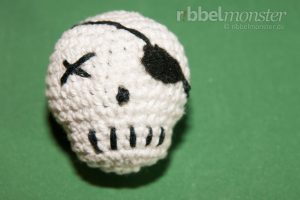 Mund und nose kannst du mit blackem Embroidery thread oder Darning Yarn auf den Totenkopf sticken.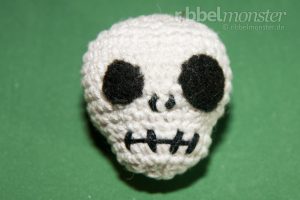 Auch die Eyes kannst du aufsticken oder aus blackem Felt Fabric ausschneiden und mit Nähgarn aufnähen. Du kannst die Eyes mit Kreisen oder Ovalen gleicher oder unterschiedlicher Größe gestalten.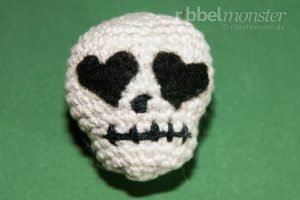 Aber auch herzförmige Eyes sind möglich. Für die Eyesklappe schneidest du einen Halbkreis aus blackem Felt Fabric aus, nähst in an und stickst dann mit blackem Yarn noch die Bänder auf.
Du kannst natürlich auch ein ganz eigenes Gesicht gestalten. Hierbei kannst du Zeichnungen und Bilder zur Hilfe nehmen. Ebenso einfach kannst du die unterschiedlichen Eyes, nosen und Münder zu neuen Gesichtern kombinieren. Eine Schleife, kleine Aufnäher oder ein headtuch aus Fabric oder Felt können deinen Totenkopf ganz anders aussehen lassen. Lass deiner Fantasie freien Lauf. Viel Spaß beim Häkeln und Gruseln!