© Ribbelmonster - All rights reserved! These pages are protected by the law of copyright, also if they are free. Print or save copies for personal use only. Do not copy, modify, distribute, publish, transmit or reproduce this content (text, images, design) or any part of it!
Amigurumi – Crochet Little Ghosts
In dieser Häkelanleitung zeige ich dir, wie du kleine Geister crochet kannst. Du kannst die Geister mit ganz unterschiedlichen Gesichtern gestalten und so hübsche Schlüsselanhänger oder Aufhänger daraus machen.
MTU4MjI4Njk4MSAtIDM0LjIyNi4yNDQuNzAgLSAw
Knowledge: Amigurumi – Kleine Geister crochet
MTU4MjI4Njk4MSAtIDM0LjIyNi4yNDQuNzAgLSAw
Supplies: Amigurumi – Kleine Geister crochet
Crochet Yarn:
Crochet Hook:
Filling: Füllwatte oder Baumwollwatte
für das Gesicht:
MTU4MjI4Njk4MSAtIDM0LjIyNi4yNDQuNzAgLSAw
Crochet Pattern: Amigurumi – Kleine Geister crochet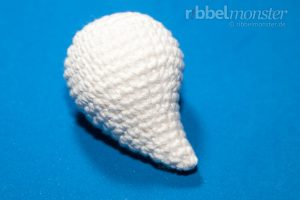 Wir crochet den kleinen Geist von oben nach unten in spiral rounds. Lege deshalb einen Makierfaden ein, um die Runden besser zu erkennen.
MTU4MjI4Njk4MSAtIDM0LjIyNi4yNDQuNzAgLSAw
Gesichter für kleine Geister
Sobald du deinen kleinen Geist fertig gehäkelt hast, sieht er noch ein wenig nackt aus. Deshalb bekommt er nun noch ein Gesicht. Du kannst das Gesicht jedes Geistes ganz individuell gestalten. Damit dir das leichter fällt stelle ich dir hier meine Beispiele vor.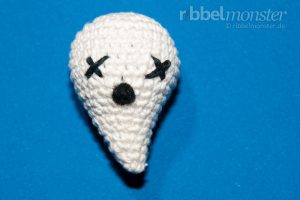 Beim ersten kleinen Geist habe ich lediglich mit blackem Darning Yarn ein paar Kreuze als Eyes aufgestick. Anschließend habe ich noch einen kleinen runden Kreis aus Felt Fabric ausgeschnitten und mit blackem Nähgarn und einer Nähnadel als Mund augenäht.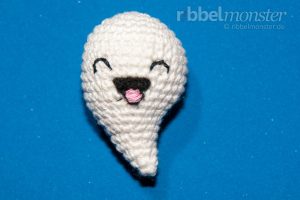 Der zweite Geist hat zwei halbkreisförmige Linien als Eyes bekommen, die ich ebenfalls mit Darning Yarn aufgestickt habe. Den lachenden Mund habe ich einfach aus blackem Felt Fabric ausgeschnitten und mit blackem Nähgarn und einer Nähnadel aufgenäht. Anschließend habe ich noch mit rose Yarn eine Zunge angedeutet.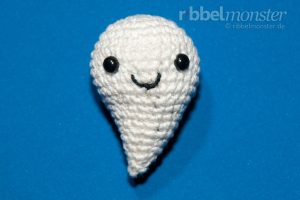 Der dritte Geist hat zwei Safety Eyes bekommen, welche ich schon beim Häkeln angebracht habe. Außerdem habe ich eine Linie im Halbkreis aufgestickt, damit er ein hübsches Lächeln bekommt.
Du kannst natürlich die gleichen Gesichter gestalten oder dir eigene Gesichter ausdenken. Dabei kannst du dir auch Bilder zur Hilfe nehmen. Sehr einfach ist es auch, die verschiedenen Eyes und Münder neu zu kombinieren.
Nun wünsche ich dir viel Spaß beim Geister crochet und ein paar schrecklich schöne Stunden!