© Ribbelmonster - All rights reserved! These pages are protected by the law of copyright, also if they are free. Print or save copies for personal use only. Do not copy, modify, distribute, publish, transmit or reproduce this content (text, images, design) or any part of it!
Amigurumi – Crochet Bells
In dieser Häkelanleitung zeige ich dir, wie sich die kleinen Glöckchen crochet lassen und wie du sie danach zum Klingen bringst. So ein Glöckchen ist schnell und einfach gehäkelt und es gibt einen schönen Christbaumschmuck oder Geschenkanhänger.
MTY2OTcyMDkyNCAtIDQ0LjE5Mi4zOC4yNDggLSAw
Knowledge: Amigurumi – Glöckchen crochet
single crochet stitches (US!) crochet
MTY2OTcyMDkyNCAtIDQ0LjE5Mi4zOC4yNDggLSAw
Supplies: Amigurumi – Glöckchen crochet
Crochet Yarn:
Crochet Hook: 2,5 mm
kleines Glöckchen oder Klangkugel mit Öse
MTY2OTcyMDkyNCAtIDQ0LjE5Mi4zOC4yNDggLSAw
Crochet Pattern: Amigurumi – Glöckchen crochet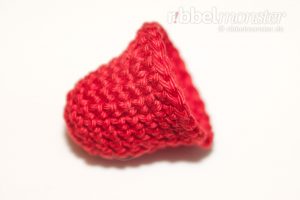 Die Amigurumi Glöckchen crochet wir in spiral rounds, das heißt ohne lifting-chain stitches oder slip stitches. Lege jedoch einen Markierfaden ein, damit du den Rundenanfang besser erkennen kannst. Nur in der letzten Runde crochet wir mit slip stitches, damit wir ein gerades Rundenende bekommen.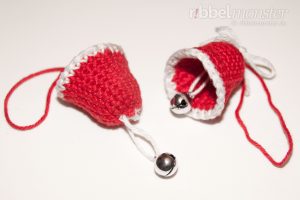 Nun wird von outside eine Schlaufe als Aufhänger durch die Mitte des magic ringes gezogen und im Inneren des Glöckchens gesichert. Danach fädelst du das Glöckchen auf ein weiteres Stück Yarn und sicherst dieses im Inneren des Glöckchens. Das Glöckchen sollte anschließend etwa mittig am unteren Rand hängen.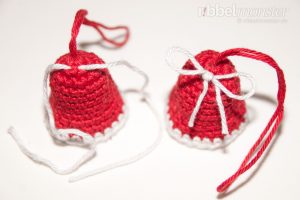 Zum Schluss habe ich noch ein Stück Faden durch eine stitch des Glöckchens gezogen und darauf einen Knoten und dann eine Schleife gemacht. Anschließend habe ich die Schlaufen der Schleife mit einem weiteren Knoten gesichert, damit sie sich nicht mehr öffnen kann.
Dann ist dein Glöckchen auch schon fertig und kann nun einen Christbaum oder ein Geschenkpaket schmücken. Ich wünsche dir eine schöne Adventszeit und fleißiges Häkeln!