© Ribbelmonster - All rights reserved! These pages are protected by the law of copyright, also if they are free. Print or save copies for personal use only. Do not copy, modify, distribute, publish, transmit or reproduce this content (text, images, design) or any part of it!
Pixel Pattern – "Santa Clause" – 25×25
Das Pixelmuster Weihnachtsmann ist eine kostenlose Vorlage für einen Weihnachtsmann als 25×25 Pixelmuster. Das Pixelmuster ist für viele verschiedene Techniken einsetzbar, beispielsweise als Zählmuster zum Häkeln, Zählmuster zum Stricken, als Stickmuster oder als Bastelmuster.
MTY2OTcyNDAxMCAtIDQ0LjE5Mi4zOC4yNDggLSAw
Verwendung: Pixelmuster – "Weihnachtsmann" – 25×25
Zählmuster zum Häkeln
Zählmuster zum Stricken
Stickmuster
Pixelmuster zum Basteln
MTY2OTcyNDAxMCAtIDQ0LjE5Mi4zOC4yNDggLSAw
Vorlage: Pixelmuster – "Weihnachtsmann" – 25×25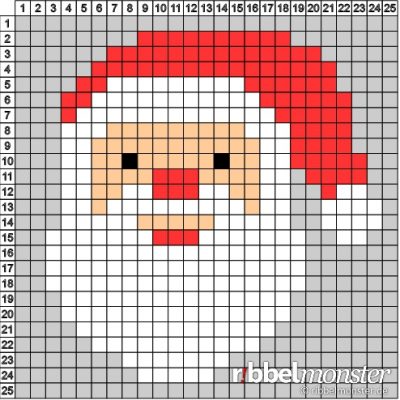 Das Pixelmuster Weihnachtsmann zeigt einen klassischen Weihnachtsmann der eine rede Mütze mit whiteer Bommel und einen langen whiteen Bart trägt. Generell sind alle Paintn des Pixelmusters frei anpassbar, jedoch bei diesem doch eher klassischen Motiv nicht sonderlich empfehlenswert.
Du kannst den Hintergrund des Pixelmusters frei anpassen, sofern du nicht die Paintn des eigentlichen Motivs verwendest. Damit dir das Abzählen des Musters leichter fällt sind alle Spalten und Reihen nummeriert.
Du kannst das Pixelmuster Weihnachtsmann nach der folgenden Grafik arbeiten oder einfach das zugehörige PDF Dokument Pixelmuster – 25×25 – Weihnachtsmann herunterladen und ausdrucken.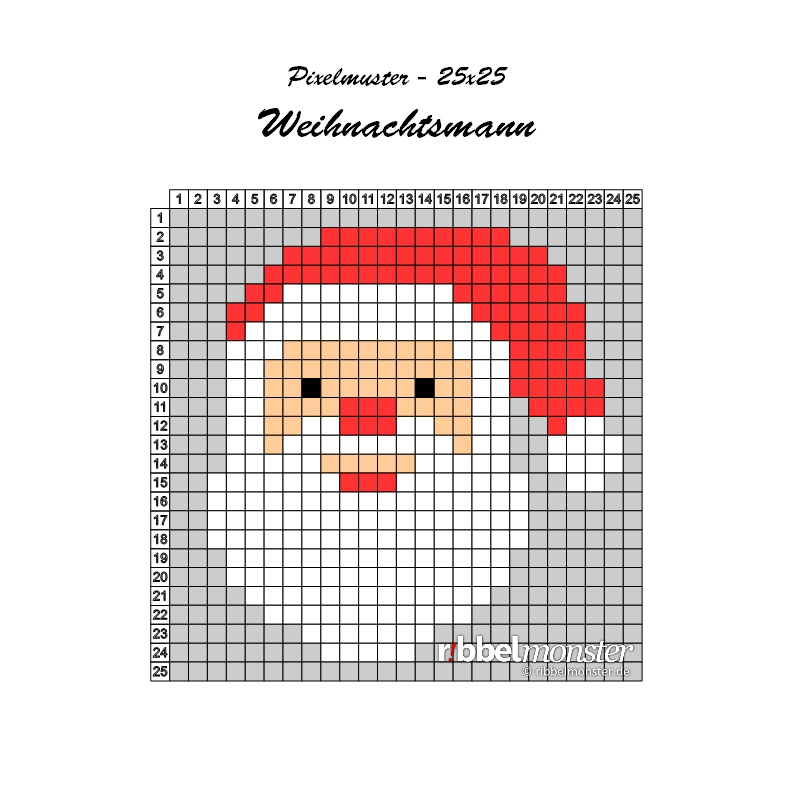 Ich hoffe dir gefällt dieses Pixelmuster und ich freue mich natürlich über Bilder von deinen Werken mit diesem Motiv! Bis bald!