© Ribbelmonster - All rights reserved! These pages are protected by the law of copyright, also if they are free. Print or save copies for personal use only. Do not copy, modify, distribute, publish, transmit or reproduce this content (text, images, design) or any part of it!
Happy Easter
Happy Easter! Wishes the Ribbelmonster and his servants. We hope you´ll find lots of colorful eggs and spend a nice time with your family.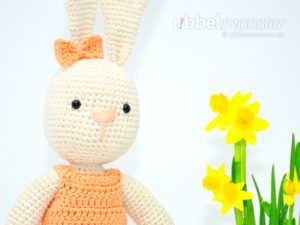 Tip: In the picture you can see the dangling bunny Milly in the dress Miranda.