© Ribbelmonster - All rights reserved! These pages are protected by the law of copyright, also if they are free. Print or save copies for personal use only. Do not copy, modify, distribute, publish, transmit or reproduce this content (text, images, design) or any part of it!
Crochet Flowers – Small 5-Leaf Flower
In dieser Anleitung zeige ich dir, wie du in wenigen Schritten eine kleine 5-blättrige Blüte crochet kannst. Du kannst die kleine Blume als Applikation für Kleidungsstücke nutzen oder ein hübsches Fenster Mobile für den Frühling daraus basteln.
MTYxODI0MTI3MSAtIDg1LjIxNC44Mi4yNDUgLSAw
Vorkenntnisse
MTYxODI0MTI3MSAtIDg1LjIxNC44Mi4yNDUgLSAw
Material
Crochet Yarn:
Crochet Hook: 3,0 mm
MTYxODI0MTI3MSAtIDg1LjIxNC44Mi4yNDUgLSAw
Anleitung kleine 5-blättrige Blüte crochet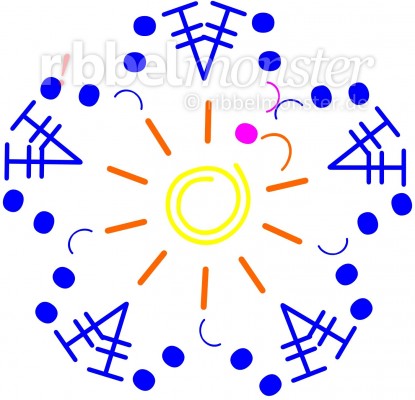 Die kleine 5-Blättrige Blüte häkelst du in 2 Runden in echten circle rounds. Dabei verwendest du jeweils 2 Paintn, eine für die erste Runde und die zweite für die zweite Runde, da sich hier die Blütenblätter ergeben.
Die Häkelschrift hilft dir beim Häkeln, du kannst dich aber auch nach der wörtlichen Anleitung richten.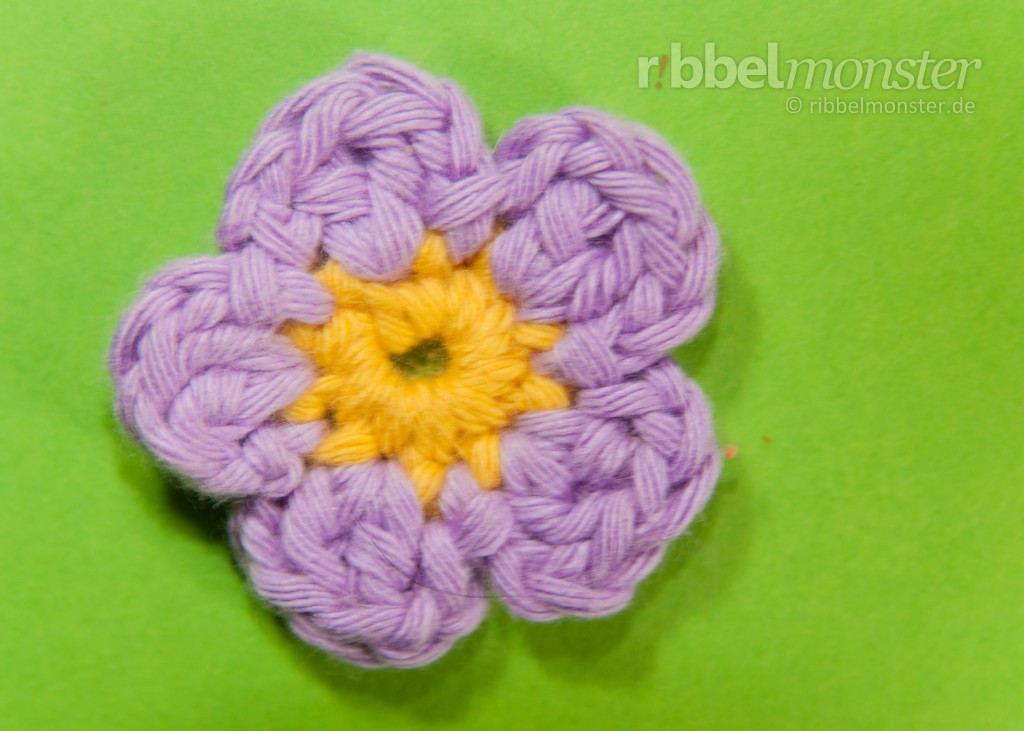 yellow
1st round: magic ring with 1 lifting-chain stitch und 9 single crochet stitches (US!) anschlagen, Runde mit slip stitch schließen
cut the thread, pull off the loop
andere Paint
2nd round: an beliebiger Stelle mit slip stitch beginside, pro Blütenblatt:

2 chain stitches
2 double double crochet stitches (US!) zusammen in die nächste Vormasche
2 chain stitches
1 slip stitch in die nächste Vormasche
mit dem nächsten Blütenblatt beginside, bis 5 Blütenblätter entstanden sind, mit letzter slip stitch in erster slip stitch der Runde enden

cut the thread, pull off the loop, Fäden sichern und verstechen