Crochet Cat Ball – "Loveball" – with Cat Nip
Mit dieser Anleitung kannst du einen Katzenball crochet und dich bei deiner Katze so richtig beliebt machen. Damit dein gehäkelter Katzenball auch wirklich ein absoluter Renner wird, füllst du den Katzenball mit Cat-Nip und machst ihn damit zur Liebeskugel. Wie das geht erkläre ich dir hier ganz genau.
MTU4NjMxMDA3NiAtIDMuMjMzLjIxNS4xOTYgLSAw
Vorkenntnisse zum Katzenball crochet
MTU4NjMxMDA3NiAtIDMuMjMzLjIxNS4xOTYgLSAw
Material zum Katzenball crochet
Crochet Yarn: Lauflänge ca. 85m / 50g (z.B. Kurtenbach: Twister Curly)
Crochet Hook: 3,0 mm
Filling:

Füllwatte oder Baumwollwatte
ca. 1 Teelöffel getrocknete Katzenminze (z.B. Cat-Nip von Gimpet)
MTU4NjMxMDA3NiAtIDMuMjMzLjIxNS4xOTYgLSAw
Pattern: Katzenball crochet "Liebeskugel"
Da wir einen einfarbigen Katzenball crochet wollen, können wir spiral rounds crochet, so hast du dann auch keine Naht an der Liebeskugel. Außerdem kannst du den Katzenball in 3 verschiedenen Größen (klein, mittel, groß) crochet, die entsprechenden Anweisungen findest du innerhalb der Anleitung.
MTU4NjMxMDA3NiAtIDMuMjMzLjIxNS4xOTYgLSAw
1st Halbkugel crochet
1st round: magic ring with 6x 1

feste Masche

in eine Masche anschlagen = 6 M
2nd round: jede M. verdoppeln = 12 M
3rd round: jede 2nd M verdoppeln = 18 M

kleiner Katzenball: weiter mit Mittelteil

4th round: jede 3rd M verdoppeln = 24 M

mittlerer Katzenball: weiter mit Mittelteil

5th round: jede 4th M verdoppeln = 30 M

großer Katzenball: weiter mit Mittelteil
MTU4NjMxMDA3NiAtIDMuMjMzLjIxNS4xOTYgLSAw
Mittelteil crochet
kleiner Katzenball: 3 Runden jede M eine M
mittlerer Katzenball: 4 Runden jede M eine M
großer Katzenball: 5 Runden jede M eine M
Sobald du den Mittelteil fertig hast, stülpst du das Innere kurz nach outside und sicherst das Fadenende vom magic ring. Verstechen musst du das Fadenende aber nicht, da es ohnehin in der Füllung verschwindet.
MTU4NjMxMDA3NiAtIDMuMjMzLjIxNS4xOTYgLSAw
2nd Halbkugel crochet
Beginne an der für deine Größe richtigen Stelle

großer Katzenball hier einsteigen

1st round: jede 4th und 5th M zusammen crochet = 24 M

mittlerer Katzenball hier einsteigen

2nd round: jede 3rd und 4th M zusammen crochet = 18 M

kleiner Katzenball hier einsteigen

weiter mit Katzenball füllen
MTU4NjMxMDA3NiAtIDMuMjMzLjIxNS4xOTYgLSAw
Katzenball füllen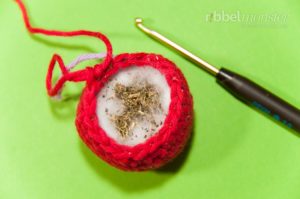 Du beginnst nun zuerst damit deinen Katzenball mit Füllwatte zu füllen, so das der Boden fast bis zur Mitte bedeckt ist und alle Seiten bedeckt sind, wobei in der Mitte ein kleines Loch entsteht. In das Loch umgeben von Füllwatte gibst du nun die getrocknete Katzenminze und deckst es anschließend mit Füllwatte ab. Nun kannst du den Katzenball beenden.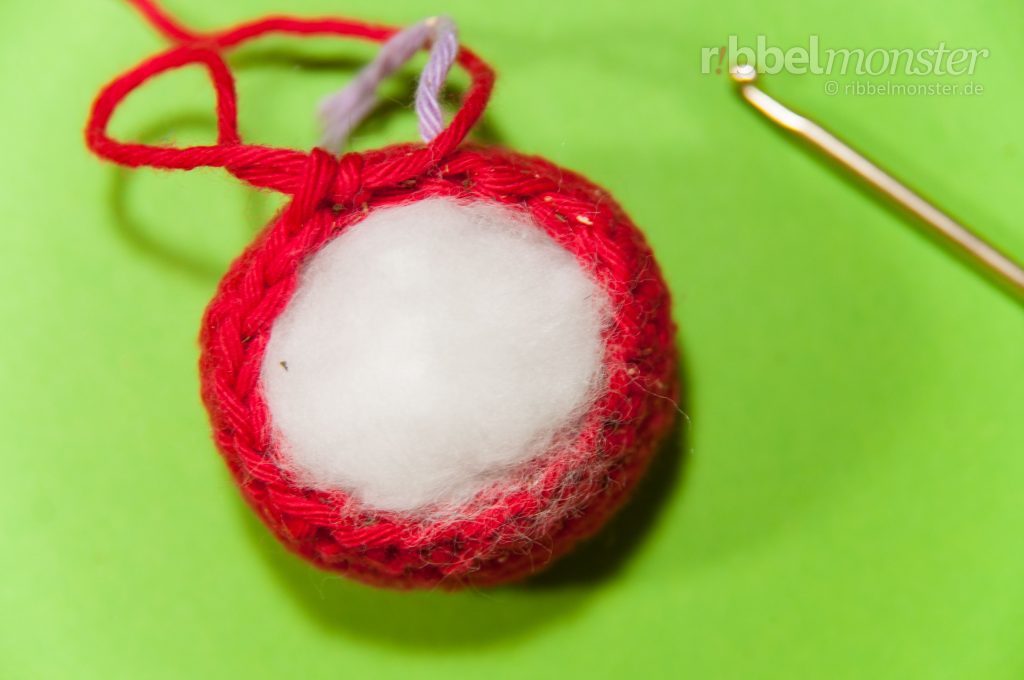 MTU4NjMxMDA3NiAtIDMuMjMzLjIxNS4xOTYgLSAw
Katzenball beenden
vorletzte round: jede 2nd und 3rd M zusammen crochet = 12 M
evtl. noch weiter füllen und nachstopfen
letzte round: jede 1st und 2nd M zusammen crochet = 6 M
Faden großzügig abschneiden, Schlaufe auf ziehen, verbliebene Öffnung mit Fadenende zusammen ziehen, Fadenende sichern und nach inside ziehen
Fertig ist dein Katzenball. Ich hoffe deinem Tiger gefällt die Liebeskugel genauso gut, wie meinen. Sport frei!!! 😉