© Ribbelmonster - All rights reserved! These pages are protected by the law of copyright, also if they are free. Print or save copies for personal use only. Do not copy, modify, distribute, publish, transmit or reproduce this content (text, images, design) or any part of it!
Crochet Cat Ball – "Crackleball"
So kannst du einen Katzenball crochet, der deine Katze durch ein schönes Knistergeräusch zum Spielen animiert. Den Knisterball kannst du ganz einfach und schnell crochet. Deine Katze wird den gehäkelten Knisterball lieben und dir ganz viel Freude bereiten. Hier zeige ich dir Schritt für Schritt wie du einen Katzenball crochet kannst.
MTY4NjAwODcxNCAtIDMuMjM1LjQwLjEyMiAtIDA=
Vorkenntnisse zum Katzenball crochet
magic ring (einfach oder doppelt)
Kreise crochet (wahlweise in circle rounds)
MTY4NjAwODcxNCAtIDMuMjM1LjQwLjEyMiAtIDA=
Material zum Katzenball crochet
Crochet Yarn: Lauflänge ca. 85m / 50g (z.B. Kurtenbach: Twister Curly)
Crochet Hook: 3,0 mm
Filling:

gut knisternde Folie (zB. von Einkaufsbeuteln oder Verpackungen)
MTY4NjAwODcxNCAtIDMuMjM1LjQwLjEyMiAtIDA=
Pattern: Katzenball crochet "Knisterball"
Diesen Katzenball crochet wir in circle rounds, da er zweifarbig werden soll und so kein hässlicher Übergang entsteht.
MTY4NjAwODcxNCAtIDMuMjM1LjQwLjEyMiAtIDA=
1st Halbkugel crochet
erste Paint
1st round: magic ring with 6x 1

feste Masche

in eine Masche anschlagen = 6 M
2nd round: jede M. verdoppeln = 12 M
3rd round: jede 2nd M verdoppeln = 18 M
4th round: jede 3rd M verdoppeln = 24 M
5th und 6th round: jede M eine M = 24 M
zweite Paint
7th und 8th round: jede M eine M = 24 M
9th round: jede 3rd und 4th M zusammen crochet = 18 M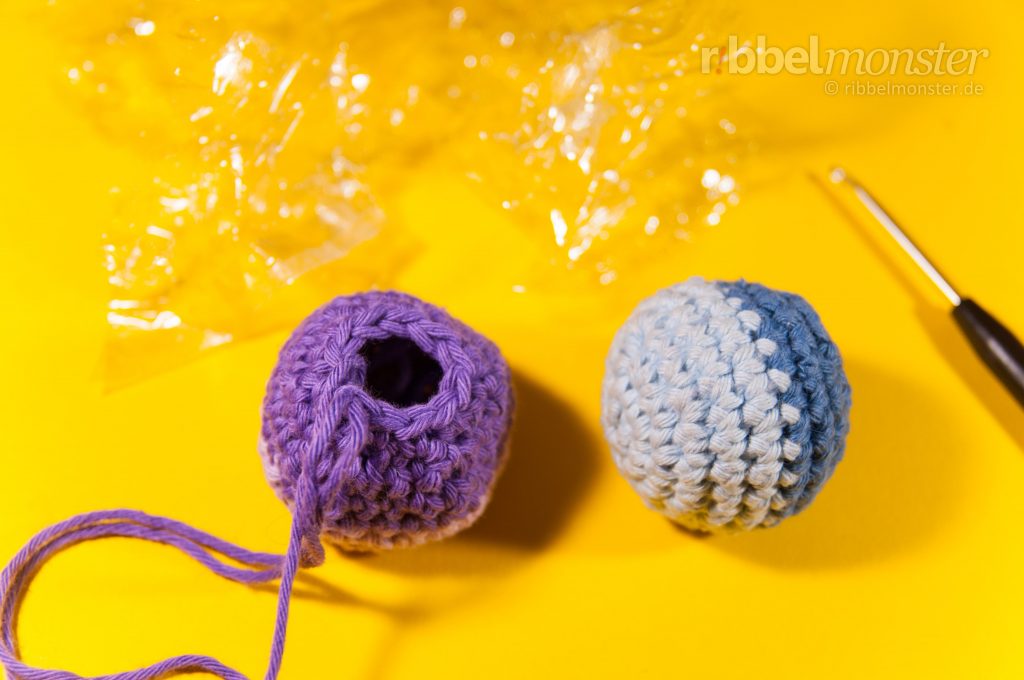 MTY4NjAwODcxNCAtIDMuMjM1LjQwLjEyMiAtIDA=
Katzenball füllen
Die Folie teilst du in mehrere kleinere Stücke, die du zu kleinen Kugeln formst und stopfst sie dann in den Katzenball. Das Kunststück dabei ist weder zu viel noch zu wenig hinein zu geben. Wenn der Katzenball zu dicht gestopft wird, knistert es nicht mehr. Ist er jedoch zu locker gefüllt, verliert er die schöne Ballform und rollt beim Spielen nicht so gut.
MTY4NjAwODcxNCAtIDMuMjM1LjQwLjEyMiAtIDA=
Katzenball beenden
10th round: jede 2nd und 3rd M zusammen crochet = 12 M
evtl. noch weiter füllen und nachstopfen
11th round: jede 1st und 2nd M zusammen crochet = 6 M
Faden großzügig abschneiden, Schlaufe auf ziehen, verbliebene Öffnung mit Fadenende zusammen ziehen, Fadenende sichern und nach inside ziehen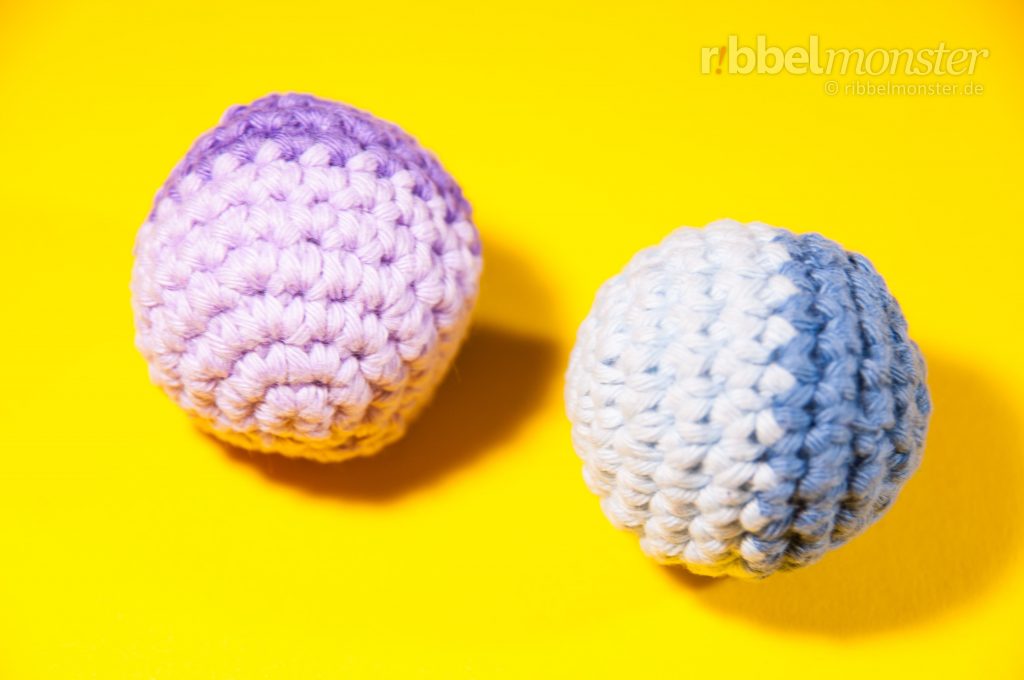 Fertig ist dein Katzenball. Ich hoffe deinem Tiger gefällt der Knisterball genauso gut, wie meinen. Sport frei!!! 😉