© Ribbelmonster - All rights reserved! These pages are protected by the law of copyright, also if they are free. Print or save copies for personal use only. Do not copy, modify, distribute, publish, transmit or reproduce this content (text, images, design) or any part of it!
Amigurumi – Crochet Smallest Christmas Lights
Nach dieser Anleitung kannst du kleinste Weihnachtslichter crochet. Gehäkelte Weihnachtslichter machen sich toll als Christbaumschmuck, Schlüsselanhänger oder mit einem Band verbunden als gehäkelte Lichterkette zur Dekoration.
MTYwMzQ1MDg4MyAtIDMuMjM4LjQuMjQgLSAw
Knowledge: Amigurumi – Kleinste Weihnachtslichter crochet
MTYwMzQ1MDg4MyAtIDMuMjM4LjQuMjQgLSAw
Supplies: Amigurumi – Kleinste Weihnachtslichter crochet
Crochet Yarn:

Colors: bluegrey, dark grey + beliebige Paint (zB. yellow, red, green, blue)
Size: ca. 125m / 50g
Example: Schachenmayr Catania

Häkelnadel:
Filling:
MTYwMzQ1MDg4MyAtIDMuMjM4LjQuMjQgLSAw
Crochet Pattern: Amigurumi – Kleinste Weihnachtslichter crochet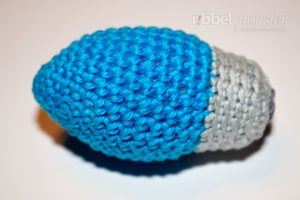 Kleinste Weihnachtslicher crochet wir von der Spitze zum Sockel mit single crochet stitches (US!) in spiral rounds. Für den Sockel verändern sich dabei die Einstichstellen, da wir in einigen Runden nur in das vordere oder hintere stitchesglied einstechen.
So kannst du kleinste Weihnachtslichter in verschiedenen Paintn crochet. Mit einem Aufhänger kannst du sie als Christbaumschmuck oder Schlüsselanhänger verturn. Du kannst sie aber auch an einem Band als gehäkelte Lichterkette zur Dekoration aufhängen. Wer es besonders niedlich mag, stickt den Glühlämpchen noch ein Gesicht auf, wobei du die Richtung in die sie hängen beachten musst.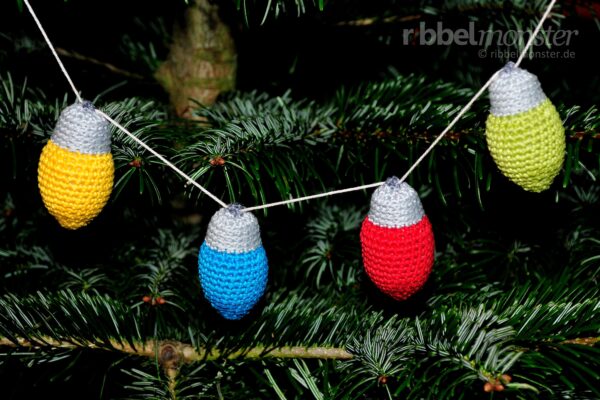 Nun wünsche ich dir viel Spaß beim crochet und dekorieren!