© Ribbelmonster - All rights reserved! These pages are protected by the law of copyright, also if they are free. Print or save copies for personal use only. Do not copy, modify, distribute, publish, transmit or reproduce this content (text, images, design) or any part of it!
Amigurumi – Crochet Big Simple Candy Cane
Wie du eine große einfache Zuckerstange crochet kannst, zeige ich dir in dieser einfachen Häkelanleitung. Die gehäkelte Zuckerstange eignet sich super zur Dekoration vor  Weihnachten oder auch als Anhänger für den Weihnachtsbaum.
MTYxNDUwNjI5NCAtIDU0LjIzNi42Mi40OSAtIDA=
Knowledge: Amigurumi – große einfache Zuckerstange crochet
MTYxNDUwNjI5NCAtIDU0LjIzNi42Mi40OSAtIDA=
Supplies: Amigurumi – große einfache Zuckerstange crochet
Crochet Yarn:
Crochet Hook:
Filling:
MTYxNDUwNjI5NCAtIDU0LjIzNi42Mi40OSAtIDA=
Crochet Pattern: Amigurumi – große einfache Zuckerstange crochet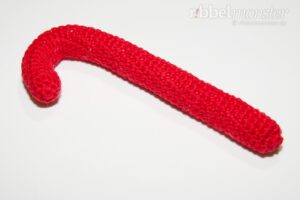 Die große einfache Zuckerstange crochet wir mit auschließlich single crochet stitches (US!) in spiral rounds von oben nach unten. Die Biegung der Zuckerstange entsteht beim Füllen, wenn wir dabei Pfeiffenreiniger einarbeiten.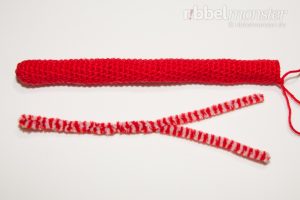 Bevor du mit dem Füllen und stopfen deiner Zuckerstange beginside kannst, musst du noch die Pfeiffenreiniger vorbereiten. Der Pfeiffenreiniger soll in der Füllung der Zuckerstange verschwinden, damit du das obere Ende später rund biegen kannst. Wenn deine Pfeiffenreiniger sehr dünn sind, solltest du mehrere zusammen drehen, damit sie später stark genug sind. Außerdem sollten sie fast so lang sein, wie deine Zuckerstange.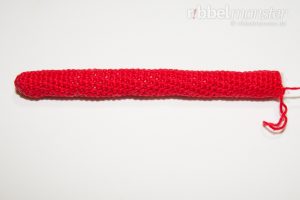 Zuerst füllst du ein wenig Füllwatte in die Spitze der Zuckertange, damit diese schön weich bleibt. Nun werden die spitzen Enden des Pfeiffenreinigers umgebogen und zuerst in die Zuckerstange gesteckt. Anschließend stopfst du Füllwatte neben die Zuckerstange, bis sie bis oben hin gefüllt ist.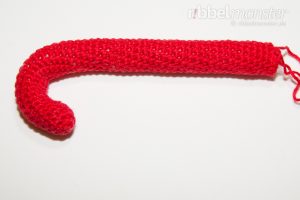 Jetzt kannst du das obere Ende umbiegen. Damit das gut funktioniert sollte der Pfeiffenreiniger auf der Innenseite der Biegung liegen. Du musst also ein wenig fühlen und probieren. Wenn das Biegen deiner Zuckerstange nicht funktioniert, ist dein Pfeiffenreiniger zu schwach. Dann hilft nur alles wieder heraus zu holen und einen dickeren Pfeiffenreiniger verturn oder mehrere zusammen drehen. Danach kannst du noch das letzte Stück crochet.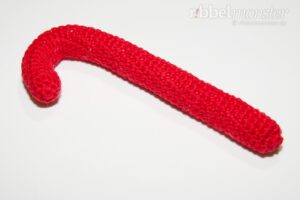 Damit ist deine große Zuckerstange auch schon fertig gehäkelt. Eigentlich ist sie schon so ein absoluter Hingucker. Du kannst sie aber auch noch reichlich verzieren. So entstehen viele hübsche Zuckerstangen mit Punkten, Streifen, Ringeln oder Schleifen und Bändern.