© Ribbelmonster - All rights reserved! These pages are protected by the law of copyright, also if they are free. Print or save copies for personal use only. Do not copy, modify, distribute, publish, transmit or reproduce this content (text, images, design) or any part of it!
99 Balloon Competition
The time of the fool is just around the corner and that's why we're starting a crazy competition today. Let's crochet 99 balloons together! Can we do it? Just join in! Just use one of our free patterns for Amigurumi balloons and crochet a colorful balloon. Post a picture of your balloon with the hashtag #ribbelmonsters99balloons until carnival monday one of the social networks (Facebook, Twitter, Instagram).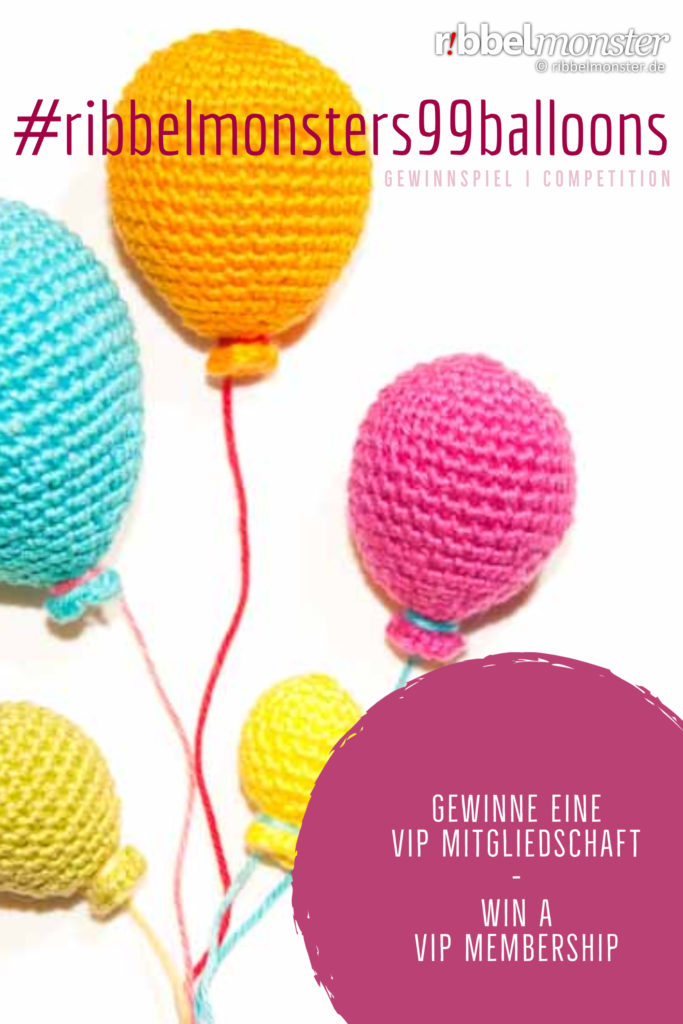 MTY4NjAwNTA1OCAtIDMuMjM1LjQwLjEyMiAtIDA=
Prize
We are giving away a VIP membership among all participants at carnival Monday. Take a closer look at the Ribbelmonster VIP Club if you have no idea what that is. Follow us to not miss the draw!
MTY4NjAwNTA1OCAtIDMuMjM1LjQwLjEyMiAtIDA=
Conditions of Participation
You have an active account on Facebook, Twitter or Instagram. The account must exist for at least 3 months and be used actively. We reserve the right to disqualify an account. So there is no use in creating an account or using an inactive one.
You are at least 18 years old. If not, you are welcome to ask for your parents' permission or let them play for you.
You are not related to the Ribbelmonster, in-laws, friends or serviced by the Ribbelmonster.
A payment, even for remaining amounts, is excluded. A material prize that cannot be converted into money is given away here.
The judges' decision is final. You cannot sue for participation, admission or profit.
We reserve the unfounded disqualification. We want to play fair, that excludes everyone who exploits a gap in the conditions or otherwise disturbs.
MTY4NjAwNTA1OCAtIDMuMjM1LjQwLjEyMiAtIDA=
Rules of the Game
Crochet a balloon according to one of our free instructions for Amigurumi balloons. Here you will find the instructions for a tiny, smallest, smaller, small and medium-sized balloon.
Take a picture of your crocheted balloon.
Post the photo of your crocheted balloon on one or all of the following social networks: Facebook, Twitter, Instagram.
You can post on all social networks. However, only one contribution per person per network counts.
Use #ribbelmonsters99balloons as a hashtag in your post so we can find your post too.
Your post must be shared publicly, otherwise we cannot see it.
To credit your VIP membership, you need a user account with the Ribbelmonster and agree to the collection of the necessary data.
The closing date for entries is Sunday, February 23rd, 2020 at 11:59 p.m. The date and time of your contribution in the social networks apply.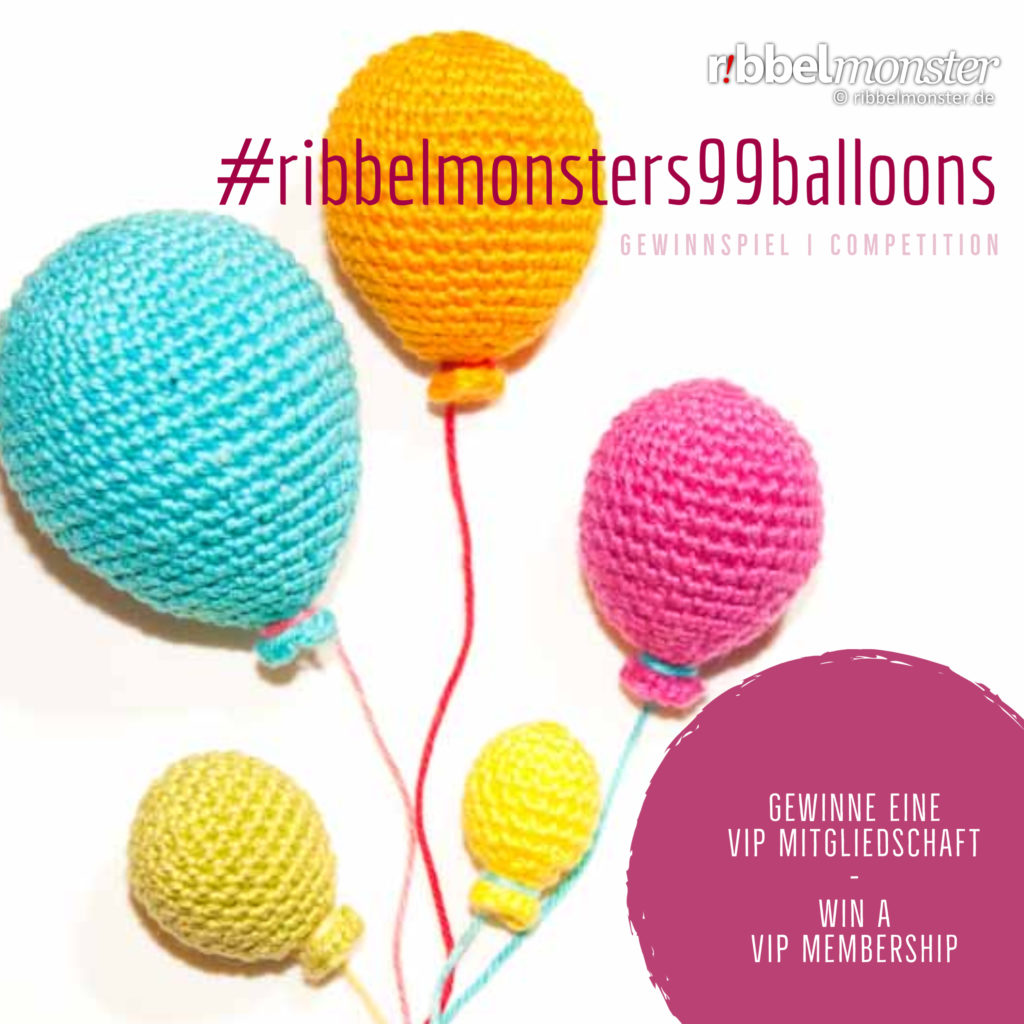 MTY4NjAwNTA1OCAtIDMuMjM1LjQwLjEyMiAtIDA=
Draw
The draw will take place on carnival Monday, February 24th, 2020. Follow us to not miss it.
As part of the raffle, a social network will be drawn first and then the winners will be drawn from among the contributions there. The winner then has one week to register, otherwise a new draw will be made.
If the winner already has a VIP membership, he can decide whether to give someone the VIP membership or to extend his own membership.
Note: The Ribbelmonster is solely responsible for this competition and is available to you at any time for questions. Facebook, Twitter and Instagram have nothing to do with the competition and are not available as contacts.