Crochet Weather Blanket
In this pattern I´ll show you how to crochet a weather blanket. To crochet a weather blanket is a great year-round project for the new calendar year. Who likes to watch the weather and has a lot of stamina, should definitely crochet a weather blanket. If you haven´t dared to start crocheting a blanket, because it takes so long, then maybe this project is the right for you. Maybe you also already know everything about temperature blankets, but this is a little more.
MTY2OTcxNjkxNyAtIDg1LjIxNC44Mi4yNDUgLSAw
CAL – Crochet Along
This project is a CAL – Crochet Along, that means we all crochet together and everybody who likes is allowed to join. Because I crochet my blanket with you, there are no pictures of the finished project at the beginning. But you will find new posts with updates to this CAL here on the blog over the year. You can join us just by starting your blanket and sharing your progress with us under the next post. I look forward to your active participation and the many wonderful results.
MTY2OTcxNjkxNyAtIDg1LjIxNC44Mi4yNDUgLSAw
Knowledge: Crochet Weather Blanket
MTY2OTcxNjkxNyAtIDg1LjIxNC44Mi4yNDUgLSAw
Supplies: Crochet Weather Blanket
You can always crochet your weather blanket with any yarn and a matching needle size, which however affects the size. With cotton yarn, the blanket gets quite heavy, but pleasantly air-conditioned. Poly yarns or wool are lighter, but often not so comfortable and hard wearing.
Crochet Yarn:

Colors: white, purple, rose, green, turquoise, blue, yellow, orange, red
Size: ca. 80m / 50g
Material: 100% Cotton
Example:

Crochet Hook:
MTY2OTcxNjkxNyAtIDg1LjIxNC44Mi4yNDUgLSAw
Size: Crochet Weather Blanket
Because every day is is crocheted a new row for the blanket, 365 rows are created throughout the year. You can freely adjust the width of the blanket by starting with more or less stitches.
The length can only be influenced by the needle size and yam strength, whereby the needle size must match the yarn size.
| | |
| --- | --- |
| Needle Size | Length (valued!) |
| 2,5 | 200cm |
| 3,0 | 220cm |
| 3,5 | 240cm |
| 4,0 | 260cm |
It's best to adjust the width of the blanket to your needs, maybe the Sizechart for Blankets will help you.
At the end you can also crochet a border around your weather blanket and thus influence the colour effect and make a nice finish. Depending on the size of the border, you can also increase the width so that it fits better as a bedspread over the bed for example.
MTY2OTcxNjkxNyAtIDg1LjIxNC44Mi4yNDUgLSAw
Crochet Pattern: Crochet Weather Blanket
With this crochet pattern you can crochet a weather blanket. The blanket is crocheted in rows with different colours and patterns. Every day a new row is crocheted so that at the end of the year 365 rows are created. The temperature determines which colour and the weather which pattern is crocheted for a day.
MTY2OTcxNjkxNyAtIDg1LjIxNC44Mi4yNDUgLSAw
Colour Chart for the Crochet Weather Blanket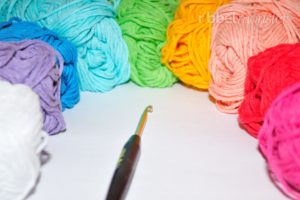 First, you need a colour chart to crochet a weather blanket. You can swap the following colour chart or develop your own according to this. I have chosen a rainbow gradient in combination with white and later I want to crochet a white border around the blanket. Depending on whether you prefer it lighter or stronger, you can choose lighter colours in pastel shades or clear colours in rich tones. You can also swap several tones of a colour to create even more variety, for example when the same colour follows each other on several days.
Colour
Celsius
Fahrenheit
from
to
from
to
white
…
4°C
…
41°F
purple
5°C
8°C
42°F
48°F
blue
9°C
12°C
49°F
53°F
turquoise
13°C
16°C
54°F
62°F
green
17°C
20°C
63°F
69°F
yellow
21°C
24°C
70°F
76°F
orange
25°C
28°C
77°F
83°F
red
29°C
32°C
84°F
90°F
pink
33°C
…
91°F
…
Tip: If you live in particularly cold or hot regions, you should think about adding another colour at the top or the bottom!
MTY2OTcxNjkxNyAtIDg1LjIxNC44Mi4yNDUgLSAw
Pattern Chart for the Crochet Weather Blanket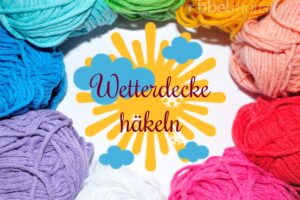 Next you need a pattern chart to crochet the weather blanket. You can swap the following pattern chart or develop your own according to this.
Snow or Hail
Rain or Sleet
Sun
Overcast (many clouds, unstable)
Cloudy (some clouds, previous name "clear")
Fog
Storm
Thunderstorm
MTY2OTcxNjkxNyAtIDg1LjIxNC44Mi4yNDUgLSAw
Snow or Hail

For snow or hail I´v choosen a nice pattern with thick flakes. The pattern stands out well from others and you get directly an impression of the weather. To crochet on this pattern, you have always to make one stitch on the flake and the other between the flakes.
MTY2OTcxNjkxNyAtIDg1LjIxNC44Mi4yNDUgLSAw
Rain or Sleet
For rain or sleet we crochet deeper stitches, which then rain down on the lower rows. Depending on the pattern of the previous row, you can stick between the stitches, in the flakes, between the flakes or even a whole row deeper.
MTY2OTcxNjkxNyAtIDg1LjIxNC44Mi4yNDUgLSAw
Sun
The sun pattern is intended for the most beautiful days of the year with sunshine and clear skies. The result is pretty sunbeams that spread over the entire row. Don´t worry, as we skip a stitch before doubling, the count stays the same!
MTY2OTcxNjkxNyAtIDg1LjIxNC44Mi4yNDUgLSAw
Overcast (many clouds, unstable)
The Overcast pattern is for days that are covered with clouds or very changeable. It's a simple lower pattern with single crochet stitches (US!). This is just as dull as the weather, but that's why the more beautiful patterns stand out much better!
MTY2OTcxNjkxNyAtIDg1LjIxNC44Mi4yNDUgLSAw
Cloudy (some clouds, previous name "clear")
Then there are these days with the weather in between, neither really clear and sunny, nor overcast and dark. Exactly for these days, the slightly cloudy pattern is thought, which I had previously called something misleading with "clear". This pattern is also quite simple, but a bit higher than the overcast pattern.
MTY2OTcxNjkxNyAtIDg1LjIxNC44Mi4yNDUgLSAw
Fog
The fog pattern forms small flat swaths, like in the real world. Don´t worry, as we skip a stitch before doubling, the count stays the same!

MTY2OTcxNjkxNyAtIDg1LjIxNC44Mi4yNDUgLSAw
Storm
For the storm, we crochet a pattern of crossed stitches, which looks pretty restless and goes great with the weather.
Addendum: It fits even better than expected, because the stitches do not just look like crosses, but like little tornadoes!

MTY2OTcxNjkxNyAtIDg1LjIxNC44Mi4yNDUgLSAw
Thunderstorm
For the thunderstorm there is a pattern with stitches that shoot like lightning straight through the row. I think that will also give a great look and immediately remind to the right weather.
MTY2OTcxNjkxNyAtIDg1LjIxNC44Mi4yNDUgLSAw
Crochet Weather Blanket
Now we can crochet the weather blanket row by row.
Please always remember to count the stitches. At least every now and then, otherwise it can happen that you get very crooked edges !!!
First, you should consider when you want to crochet your rows. You can crochet them daily and make them a solid ritual, for example while drinking coffee, as a morning ritual or every evening to relax while watching TV. If you have little time during the week, you can always crochet all rows at once at the end of a week, for example every Sunday. Then you should note down the weather data daily, this also applies if you do not come to crocheting. If you're on vacation, you can swap the weather data of your resort or have someone to note it for you at home, depending on how you like it. The important thing is that you think about a solid ritual, so that you stay tuned. The more rows that have dammed, the harder it is to come after, so a regular rhythm is the key to success.
Whether you always choose the highest, lowest, average temperature or a fixed time is up to you. Sometimes it makes sense to cheat a bit, so as not to have too many similar colours row by row. In the weather, you can take the vastest or most severe condition, depending on your impression of the day. Once you've collected the weather data for the first day, you can start your weather blanket.
start with the colour for the first day

1st row: as many chain stitches as needed for the with (even number of stitches needed!)
2nd row: crochet the pattern for the day = same stitch count

every other row: combination of colour and pattern

You crochet in the thread end in the new row, crochet them in with the border later or weave them in. Decide what you like better!
I would be happy if you join us and show us your progress soon!
MTY2OTcxNjkxNyAtIDg1LjIxNC44Mi4yNDUgLSAw
CAL – Crochet Weather Blanket