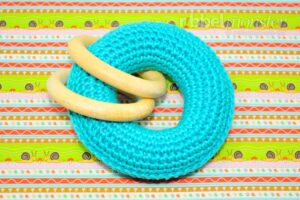 To crochet a simple baby teether will be a breeze with this Pattern. You can work the crocheted baby teether with and without rings and customize it. The simple baby teether is a great help while teething and a nice toy for babies.
Knowledge: Crochet Simple Baby Teether
Supplies: Crochet Simple Baby Teether
Crochet Yarn:
Crochet Hook:
Filling:
Size: Crochet Simple Baby Teether
Here you find the size specifications for the crocheted baby teether.
| | | | |
| --- | --- | --- | --- |
| Needle Size | Yarn | inside | outside |
| 2,5 mm (shown example) | 125m / 50g, 100% Cotton | 3,5 cm | 8 cm |
Pattern: Crochet Simple Baby Teether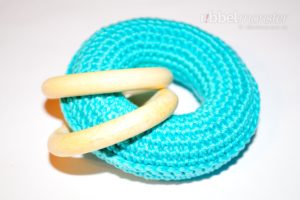 We crochet the simple baby teether from inside to outside, first in rows and then in spiral rounds with single crochet stitches. Then we crochet the back side from the other side, so no decreases and thus no gaps occur in the stitch structure.
First Part: Crochet Simple Baby Teether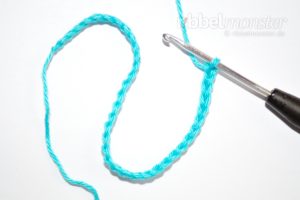 We start with a simple line of chain stitches and crochet in rows first.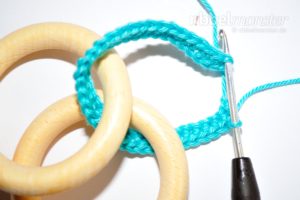 After crocheting the 2nd row, we continue crocheting in rounds. To do this you simply punch in the last stitch of the 2nd row for the first stitch of the 3rd round and crochet as normal. If you want to use rings, you should put them on now. Make sure that you do not twist the crochet piece to make a smooth ring.
Second Part: Crochet Simple Baby Teether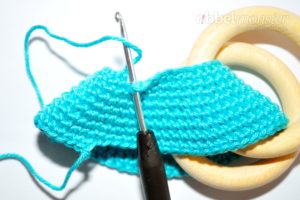 Now you have finished the first part and we start again on the line of chain stitches, this time just on the other side.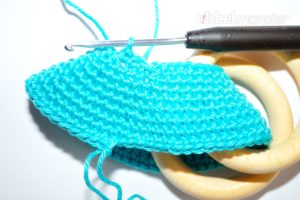 For the first loop, you simply pull the thread end from the beginning through the stitch to the right of the end of the row. Then you can continue crocheting as usually with new yarn.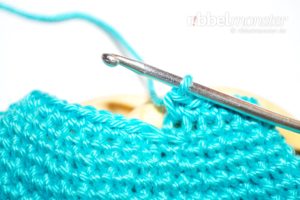 After you had crocheted the first round, you are at the beginning again and you can simply continue crocheting in spiral rounds.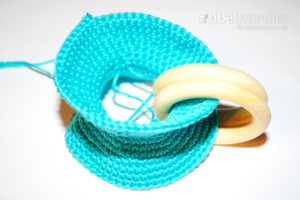 Now you've also finished crocheting the second part and your crochet should now look like this. Now it´s time to secure all thread ends and to hide them inside.
Border: Crochet Simple Baby Teether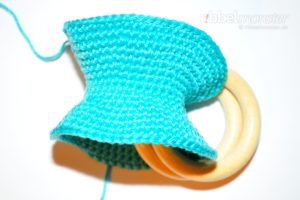 Now we want to crochet a border around the simple baby teether and this way we also crochet both parts together.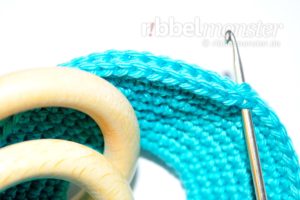 First of all, you turn the crochet piece inside out and put it flat into a ring. It will buckle a bit, but that's fine. You can start with new yarn anywhere. For the edge we always punch into both loops of the front and the back part.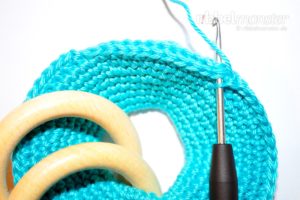 Then you crochet with single crochet stitches once around and always stitch into both loops of the front and back side.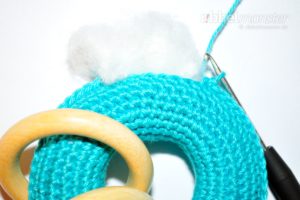 Just before you arrive at the end of the round, the ring is completely filled and stuffed. The result is a wonderfully even ring.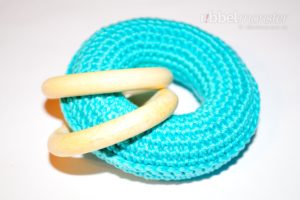 Once you have crocheted the border, your simple baby teether is already finished and can be played on.
I hope that crocheting has given you as much pleasure as this teether will please the gifted baby!