© Ribbelmonster - All rights reserved! These pages are protected by the law of copyright, also if they are free. Print or save copies for personal use only. Do not copy, modify, distribute, publish, transmit or reproduce this content (text, images, design) or any part of it!
Amigurumi – Crochet Smaller Rainbow
Following this Tutorial you can easily crochet a smaller rainbow. Such a smaller crocheted rainbow fits fine at a mobile Mobile and made with thicker yarn it is also a wonderful pillow.
MTY4NjAxMTc0MyAtIDMuMjM1LjQwLjEyMiAtIDA=
Knowledge: Amigurumi – Crochet Smaller Rainbow
MTY4NjAxMTc0MyAtIDMuMjM1LjQwLjEyMiAtIDA=
Supplies: Amigurumi – Crochet Smaller Rainbow
Crochet Yarn:

Colors: pink, purple, blue, green, yellow, orange, red
Size: ca. 125m / 50g
Example: Schachenmayr Catania

Crochet Hook:
Darning Needle (blunt)
Scissors
Filling:
MTY4NjAxMTc0MyAtIDMuMjM1LjQwLjEyMiAtIDA=
Size: Amigurumi – Crochet Smaller Rainbow
Here you find the size specifications for the smaller rainbow.
| | | | |
| --- | --- | --- | --- |
| Needle Size | Yarn | Height | Width |
| 2,5 mm (shown Example) | 125m / 50g, 100% Cotton | 6,5cm | 14,5cm |
MTY4NjAxMTc0MyAtIDMuMjM1LjQwLjEyMiAtIDA=
Crochet Pattern: Amigurumi – Crochet Smaller Rainbow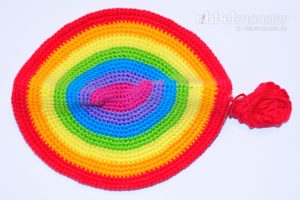 The smaller rainbow we start with a line of chain stitches and crochet from bottom to top in spiral rounds with only single crochet stitches. When your finished you can also attach a hanger to your rainbow.
pink:
1st row: line of chain stitches with 14 chain stitches + 1 lifting-chain stitch = 14 stitches
2nd round: 

1st – 13th chain stitch: each 1 single crochet stitch = 13 stitches
14th chain stitch: 3 single crochet stitches, while turning = 16 stitches
continue crocheting on the other side
13th – 2nd chain stitch: each 1 single crochet stitch = 28 stitches
1st chain stitch: 2 single crochet stitch = 30 stitches

3rd round: double every 5th stitch = 36 stitches
4th round: double every 6th stitch = 42 stitches
purple:
5th round: double every 7th stitch = 48 stitches
6th round: double every 8th stitch = 54 stitches
7th round: double every 9th stitch = 60 stitches
blue:
8th round: double every 10th stitch = 66 stitches
9th round: double every 11th stitch = 72 stitches
10th round: double every 12th stitch = 78 stitches
green:
11th round: double every 13th stitch = 84 stitches
12th round: double every 14th stitch = 90 stitches
13th round: double every 15th stitch = 96 stitches
yellow:
14th round: double every 16th stitch = 102 stitches
15th round: double every 17th stitch = 108 stitches
16th round: double every 18th stitch = 114 stitches
orange:
17th round: double every 19th stitch = 120 stitches
18th round: double every 20th stitch = 126 stitches
19th round: double every 21th stitch = 132 stitches
red:
20th round: double every 22th stitch = 138 stitches
21st round: double every 23rd stitch = 144 stitches
22nd round: double every 24th stitch = 150 stitches
cut the thread generous, pull off the loop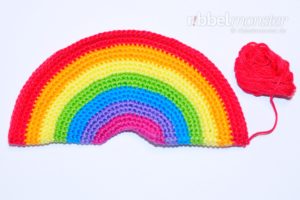 After you finished crocheting the rainbow, the upper edge will be sewn together. You can use therefor easily the thread end.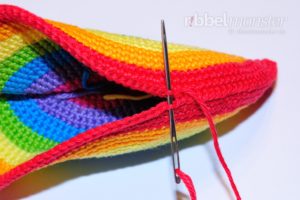 Stitch now always into the front loop of the front side and into the back back loop of the back side and sew together this way both sides.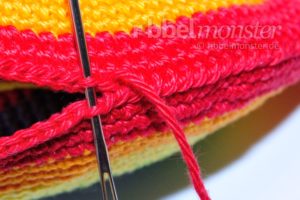 This way you´re getting a nice seam. When the opening is just big enough, the rainbow will be filled and stuffed.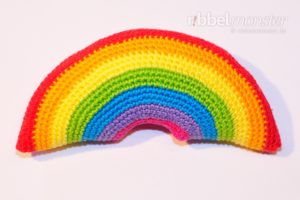 After all you only need to sew together the remaining opening and secure and wave in the thread end.
Now I can also congratulate to your first self crocheted rainbow and I hope you will visit us again next time!